In times of economic turbulence, physical gold is always a good investment. There is more than one option to buy physical gold in the form of gold coins, bullions, or bars. The problem is that its value may fluctuate a lot.
The question is, how can you buy physical gold without putting your credit card on strain? Read this Acre Gold Review to find out.
About Acre Gold
Let's now try to learn something more about Acre Gold, the company whose primary function is to provide its customers with an easy way to buy gold as a store of value.
Acre Gold at a glance
Name: Acre Gold
Website: getacregold.com
Founder: Not disclosed
Price: $30- $50 per month subscription, $12 one-time upfront membership fee – More pricing info
Location: Santa Monica, CA, & Boise, ID
More info about Acre Gold
Founded by a small team of fintech veterans, Acre Gold is here to change the way people buy gold, be it from auction websites like eBay, or from pawnshops of dubious reputation. Headquartered in Santa Monica, CA, and Boise, ID, Acre Gold is a relatively new player in the gold retail market, aiming to help consumers get an easier and more engaging experience while making a safe investment in gold.
Acre has introduced its unique Gold subscription strategy. Their customers purchase gold for an affordable monthly fee. Once a client's individual balance reaches that of Acre's price for a 2.5 g bullion, the person receives their 2.5 g gold bar of the finest quality gold delivered discretely to their doorstep.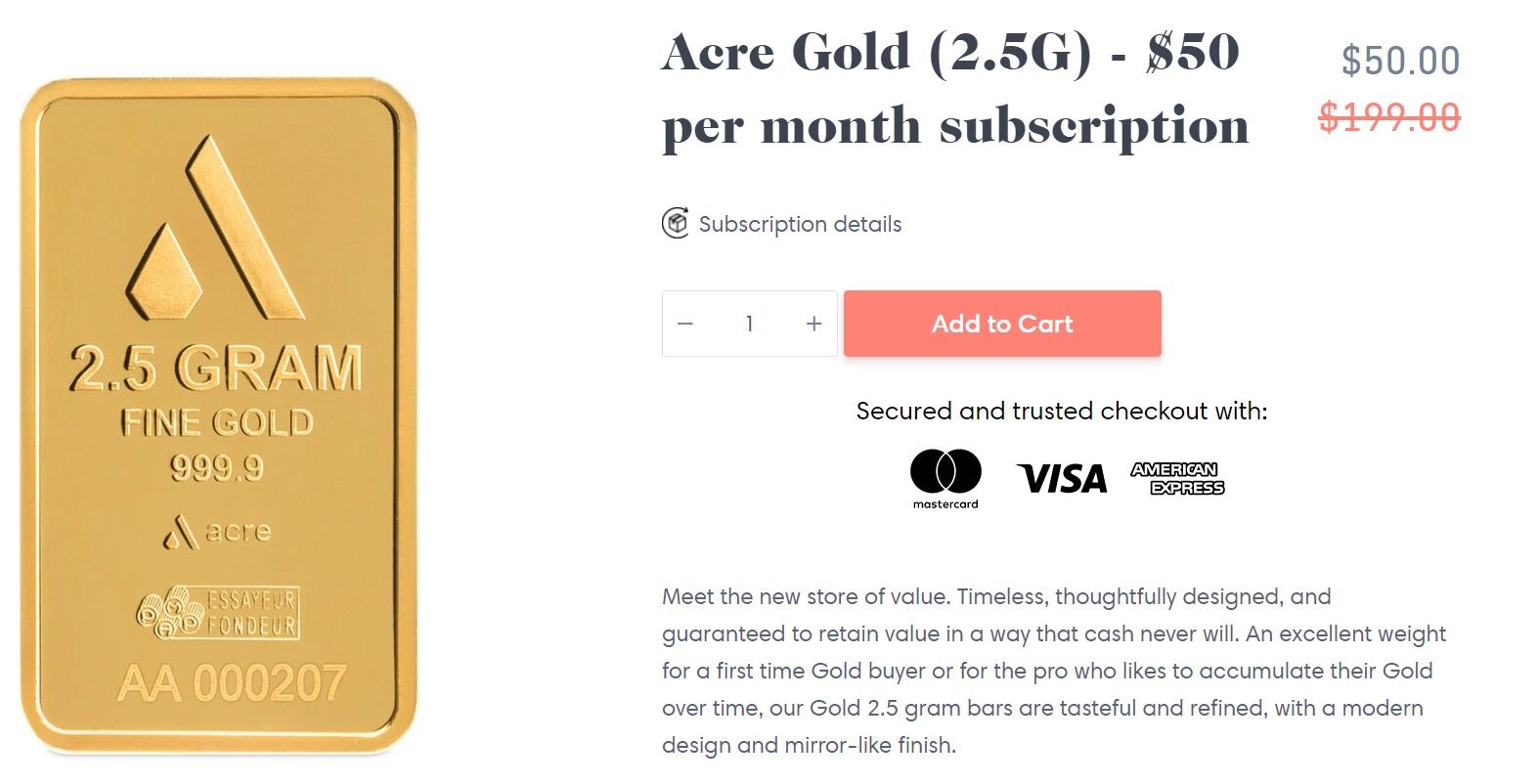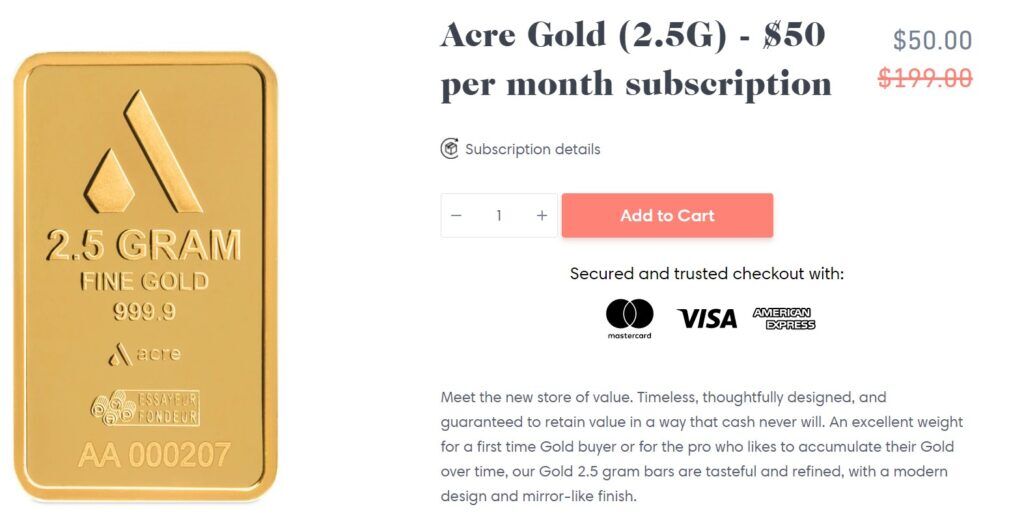 How to reach Acre Gold?
Acre Gold is reachable via the email address [email protected], as well as on social media platforms like Facebook and Instagram. The absence of a phone number on Acre Gold's official website is a red flag for me.
The Better Business Bureau warns that Acre Gold is not BBB accredited, adding that the entity is a subscription-based company that puts a 2.5 g bar of gold on layaway until your monthly subscription costs meet the seller's current value.
What's the spot price of gold?
It is important to understand that Acre Gold offers just one way to purchase gold. There are many other ways to put your money in this precious metal. Before you pick up one, let me elicit the notion of "spot price" for you.
In many reviews, physical gold is described as "investment insurance". As such, you want to pay for the material, and not for the level of craftsmanship that gold bars feature. Second, you should aim to purchase gold at a retail price that is as close to the market price as possible.
What is a troy ounce?
Keep in mind that the current price of gold is shown in troy ounces. A troy ounce equals 31.103 grams. If a gold item is marked as 10K, 14K, 18K, or 24K that indicates the percentage of gold in that item. Pure gold is too soft to work with, so goldsmiths mix it with other metals.
10K – 41.6% gold
14K – 58.3%
18K – 75%
24K – 99.9%
How to avoid getting ripped off?
It is practically impossible to purchase gold at its current retail price because you're buying through an intermediary who also would like to make some money. A good gold retailer will only put a premium of 5% on the spot value and offer free shipping in the United States. Websites like GoldPrice.org and Kitco.com show the market price of physical gold in real-time.
Acre Gold Pricing
Acre Gold regularly stockpiles physical gold, but they sometimes run out of stock due to the surging demand for the precious metal of the past year or so. Anyway, each 2.5 g bar has a designated price tag. If the retail cost has shot up in the meantime, you will still get their more favorable cost. If the cost goes down, you will get your gold plate delivered to your door after the next payment.
$30 & $50 Monthly Packages
To first-time gold buyers and bargain-hardened pros, Acre Gold has something to offer. The company has launched a flexible layaway program allowing clients to pay a monthly fee of $30 or $50, accumulate gold, and get a 2.5-gram bar sent over to them when the money balance in their account reached the set cost threshold.
Acre Gold's $100 per month subscription
To their wealthier customers, Acre Gold is pleased to offer the company's latest store of value. The 5-gram (0.1607 oz) bar is carefully manufactured of .9999 fine gold and promises to retain its market value forever.
Every month, you will be paying Acre Gold $100 and the money will accumulate into your account until the amount reaches the price of a 5g Acre gold bar. The company will then ship you a 5-gram gold bullion every time the accumulated amount in your account hits the price threshold and credit any remainder to your next 5-gram gold bullion.
Charges & Fees
On the downside, you'll have to cover any shipping and fulfillment fees, and there's also a one-time $12 membership fee and a processing fee of $3.35 per bullion. Should you ever want to close your account, you'll have to pay a $20 cancellation fee.
Acre Gold's bar special features
Each gold bullion comes in a premium, soft-touch box with a display drawer and bears an authenticity certifying assay card in tamper. The elaborate packaging both protects the gold plate and certifies its origin.
Each bullion is made of 2.5-gram (0.0881 oz) or 5-gram (0.1607 oz) of .9999 fine gold and is delivered in a sealed protective assay package that clearly indicates the weight and authentication of the bullion via an assayer's stamp. Furthermore, each gold bullion is stamped with Acre's logo along with its weight and purity. On the reverse side of the bullion, the client can again see Acre's logo.
When will my gold arrive?
Unless there are disruptions in the gold supplies worldwide, Acre Gold will deliver 2.5-gram gold bullion to your doorstep after five $50 payments. This means that if you open an account with Acre Gold in January, you can expect to receive your gold in May or June.
Acre Gold Reviews & Comments
Many reviews mention that Acre Gold's sales policy is not exactly transparent, and its BBB rating is far from perfect. There have also been many complaints of Acre's support policy, particularly on sites such as www.no-scam.com.
A comment from a particularly disgruntled client reads that this whole Acre Gold thing is a scam. Albeit you pay your subscription every month, this online gold retailer does not provide any data-backed info as to how much cash you have sent them so far and what amounts of gold the money can buy. Other reviews advise dealing with Acre Gold at your discretion and with due diligence.
An Acre Gold account is hard to close
On the BBB website, I noticed a particularly alarming complaint from a client who's tried to close their account four times following an unauthorized credit card charge. Unfortunately, all of their attempts to reach Acre Gold's support team via the specified email address have been unsuccessful. From this comment, it becomes clear that an Acre Gold account can be difficult to close even if you have paid the $20 cancellation fee.
Clumsy account management
The comment quoted above made me seriously reconsider what I was going to include in this post. Such complaints directly contradict Acre Gold's Facebook post, which says that they keep you regularly updated about the status of your account via progress emails.
In your receipt email, you can also find a Manage Subscription link that will take you to the Client Portal, where you can manage your account and monitor your transactions' history. If you fail to see your progress email, Acre Gold recommends checking your spam folder.
It's hard to get a response from Acre's support team
Part of the issue appears to be that Acre Gold's customer service reps are hard to reach. For the sake of this Acre Gold review, I decided to experiment and contacted Acre Gold at the listed email address with a fake query.
Although I got a response to my email inquiry, it was not as informative as I expected. The most frustrating thing was that the support team didn't tell me their price per bullion because, as they were so kind to explain, the market value of gold is constantly fluctuating.
Does Acre Gold have affiliates?
There is much controversy as to whether Acre Gold has a working referral program or not. Some reviews suggest that Acre Gold has a referral program awarding customers various incentives for bringing in new subscribers.
However, I could not cross-check this information on Acre Gold's official website. There is a section of their website dedicated to Affiliates, but the information in it mostly encourages future partners to become affiliates and send in referrals.
Acre Gold Bottom Line
Acre Gold Pros:
Simple signup process
The gold bullions are minted in Switzerland
Finest quality gold you can buy online
Acre Gold Cons:
Many controversial and confusing comments and reviews
Controversial customer experience
No phone number you can call
For a gold dealer as young as Acre Gold, it is weird how it has managed to accumulate a bevy of controversial and often contradicting reviews and comments. You can read many positive reviews on their website, but there are comments that are anything but favorable.
My final verdict is that Acre Gold offers a safe way to buy gold. I watched several videos on YouTube where fellow reviewers actually show the 2.5-gram bars they've received. The one thing I did not notice, though, is the Acre Gold stamp at the back of the bullion. With or without a stamp on the back, Acre's bars are real and you can hold them in your hands just five months after you activate your account.